This new crafting tool from Stampin' UP! awed me so much at On Stage this past week. It's going to be a must have addition to mine and (your) crafting stash.
This VIDEO will give you some amazing tips on how to use this even more amazing stamping tool!
Designed to work on any size stamp, with stamps that you want precision placement, two step stamping and so much more – you have to see it in action to truly understand it's potential. Check it out BUT be ready to act fast reserving yours November 16th WHILE SUPPLIES LAST… I have a free gift for all who reserve - that will be sent once the your final order is placed!
You must create a customer profile – CLICK HERE TO DO SO - if you have not already ordered from me online. Cost is $49.00 plus S&H and Tax. Here are all the pre-order dates -
After this you will need to wait till the annual catalog is released - at which time you will not need to pre-order any longer.
STAMPARATUS Reservation Questions ~
Q: How do I reserve my Stamparatus?
A: Normally - you order Stampin' Up! products through the online store; but in this case, you will click the RESERVE link on the Stamparatus page which will take you to the reservation page. This will be available on the 16th. For step-by-step instructions, please see the images below.
Q: Why does it take so long for the Stamparatus to ship?
A: We will place an order with the manufacturer based on how many reservations are made during any given reservation window. Shipping dates depend on how long it takes the order to arrive in our warehouse after the tools have been manufactured.
Q: Am I billed at the time I reserve my Stamparatus?
A: No. However, a credit card is required to reserve the product.
Q: When will I be charged for the Stamparatus?
A: When inventory arrives in the warehouse, we will add your reservation to a shopping cart. We will then send you an email notifying you that your Stamparatus order is ready. Once you finalize payment and close your order, the system will charge your credit card.
Q: Will I be able to add other products to my Stamparatus reservation?
A: No. However, once your reservation is transferred to your shopping cart, you will then be able to add other items to your order. Important note: Please do not delete the Stamparatus from your order. We will not be able to add it back and you will lose your reservation.
Q: Will I be able to update my address and credit card information when I open my shopping bag to complete my order?
A: Yes.
Q: What if I change my mind and want to cancel my reservation?
A: You can cancel your reservation at any time.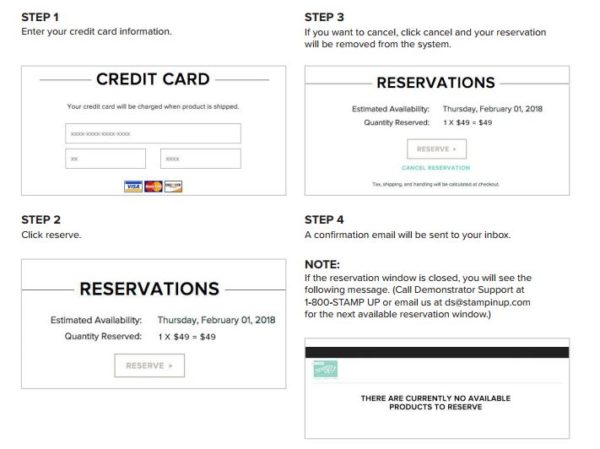 Q: When I close my order, can I take advantage of current Stampin' Up! promotions?
A: Yes.
Q: Can I participate in all three reservation periods?
A: Yes.
Q: How many stamp placement tools can I reserve per reservation window?
A: For customers, there is a limit of 1 per reservation window.
Lots of FUN stuff going on here - don't miss out!! If you have any questions - email me HERE! ~Maureen
Don't for get to get an email each time I update - by entering your email in my side bar. You don't want to miss a single special or opportunity! Now is the time to be a part of something great!!